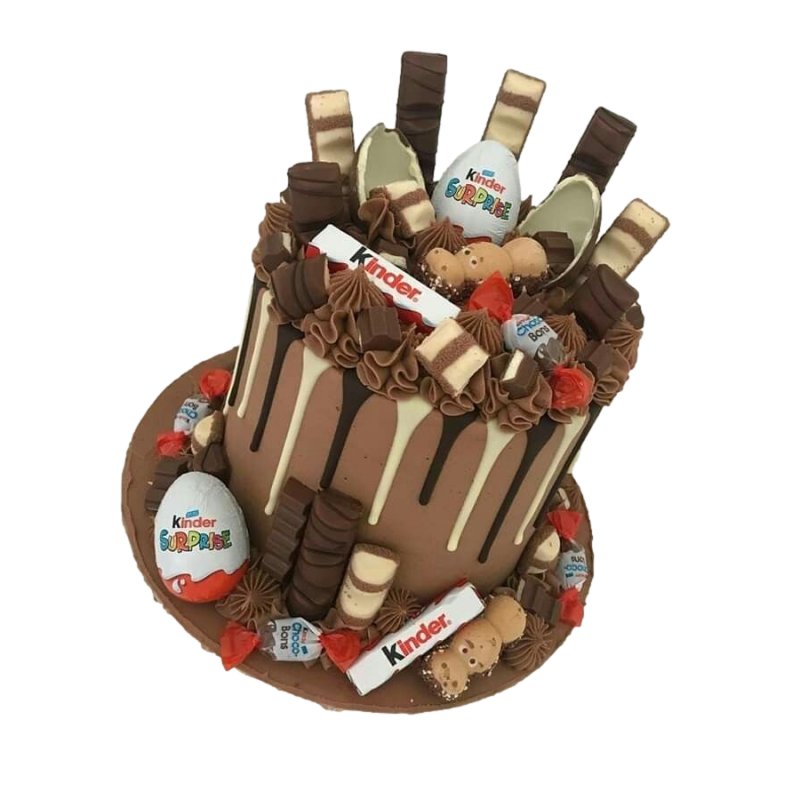  
gateau d'anniversaire drip cake kinder
Dive into an exquisite experience with our Kinder Drip Cake Birthday Cake, a perfect fusion of refinement and greed.
1. Exquisite design: The delicate aesthetic of the cake, with its "drip" effect, adds a touch of sophistication to the generosity of Kinder chocolate. The melted chocolate cascades create a visual that is both elegant and appetizing, promising a visual experience as delicious as gustative.
2. Gourmand flavors: Each serving offers a delicious harmony of flavors, mixing the mellow sweetness of the cake with the richness of Kinder chocolate. The sweet and chocolate notes marry to create an unforgettable taste experience, combining the lovers of chocolate of happiness with each bite.
3. Personalization Gourmande : Our cake is a gourmet canvas that you can customize according to your preferences. Choose the size of the cake that suits your party, whether for an intimate family celebration or a large festive meeting with friends. Treat yourself to a tailor-made sweet experience.
4. Express and Soignée delivery: Our commitment to customer satisfaction is reflected in our fast and meticulous delivery service. Each Kinder Drip Cake is delivered with care, preserving its freshness and integrity to ensure that it is as delicious on arrival as on making.
Celebrate your birthday with our creation - a sweet experience where chocolate meets elegance, creating sweet memories that will last well beyond the special day.

Free delivery within 24 hours
Compliance with health regulations

Delivery by our couriers
Discover here our delivery areas

Payment in 4x without paypal fees
For any purchase between 30€ and 2000€